Samsung has just introduced its series M7 Smart monitor that is not only an ordinary computer lcd (its looks like one) but is is also a complete Smart TV having all bui9lnt in smart TV features. So it can work for both applications, for work and for entertainment as well.
SAMSUNG M7 SMART MONITOR
There are three versions currently available for this monitor, by specifications
M5(27-inch)- $220
M5(32-inch)- $260
M7(32-inch)- $420
It is a 32″ PC monitor with 4K resolution, having borrowed a number of features from the TV range. This Samsung screen has built-in Wi-Fi and Bluetooth, so it provides a couple of interesting possibilities in a purely productive way. For example, it can connect to Microsoft Office 365 cloud services, so you can work from home without a PC – it can also work with a wireless mouse and keyboard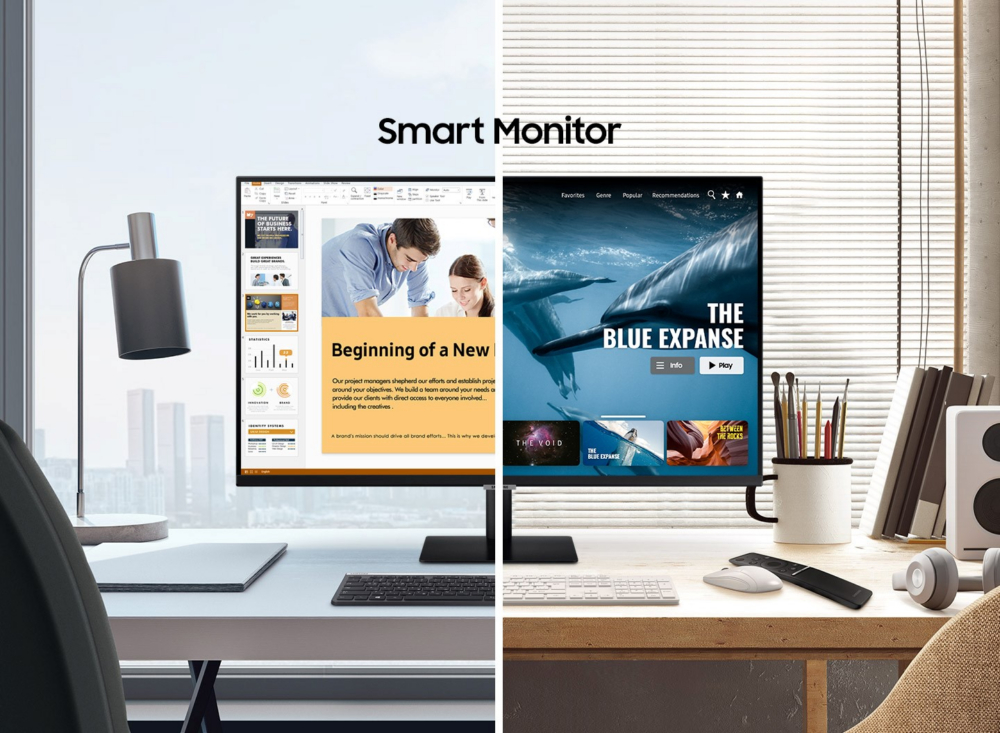 Features
The included remote control can be used with Bluetooth and responds quickly to commands. This makes it easy to switch from work to entertainment at the touch of a button.
The most important thing about is the Wi-Fi connection, however, is that you get access to Samsung's Smart-universe. You will find almost all popular streaming services, including Netflix, Viaplay and Disney+ to name but a few.
the panel speed (refresh rate) is limited to a maximum of 60 Hz. This will probably disappoint some competitive gamers, who prefer to play at 120, 144 or even 240 Hz on some shooters. Samsung M7 also does not have built-in support for Nvidia G-Sync or AMD Free sync, the lack of which can lead to screen tearing with some games.
To do the picture justice, you also definitely need to cover yourself with a set of separate speakers. In that sense, it is a very good thing that the Samsung screen has both Bluetooth and HDMI audio output, which makes it easy to upgrade the sound.
In spite of the extra functions, the smart monitor is not much more expensive than other 32″ 4K screens, which means that you almost get the TV part with the purchase. A perfect screen for the home office, in other words!
Although the Samsung monitor has some limitations seen with discerning TV eyes, it clearly appears to be a good buy. We think this is a fun and practical product, which we would like to see more varieties of in the future. Maybe an M9 version with even more hefty image and sound?
Purchase Samsung M7 Monitor here:
https://www.samsung.com/nz/monitors/flat/smart-m7-32-inch-uhd-4k-ls32am700uexxy/